Page
Global Equine Nutrition I
Global Equine Nutrition I
Global Equine Nutrition I (Anivado Level 3) gives an in-depth grounding in Equine Nutrition Science for those with previous basic knowledge in equine or animal nutrition with a view to feeding horses in different zones around the world. Modules underpin theoretical knowledge of digestive physiology and processes leading to an in-depth grounding in Ration Calculation and Evaluation. It forms the perfect basis for those looking to refresh their latest understanding and knowledge. This course is aimed at a study level of final year Bachelor's degree or first year of a Master's Course and is brought to you by Dr David van Doorn (ANIVADO) and Dr Andrea Ellis (UNEQUI).
Modules will include: Ingestive Behaviour, Feed Chemistry and Technology, Digestive Physiology and Ration Calculation Basics


After purchasing the course, you have 270 days to complete the course.
This course is entirely in English. Do you want to buy the English-Spanish version? Click here.
Global Equine Nutrition I – Part C: Basic Ration Evaluation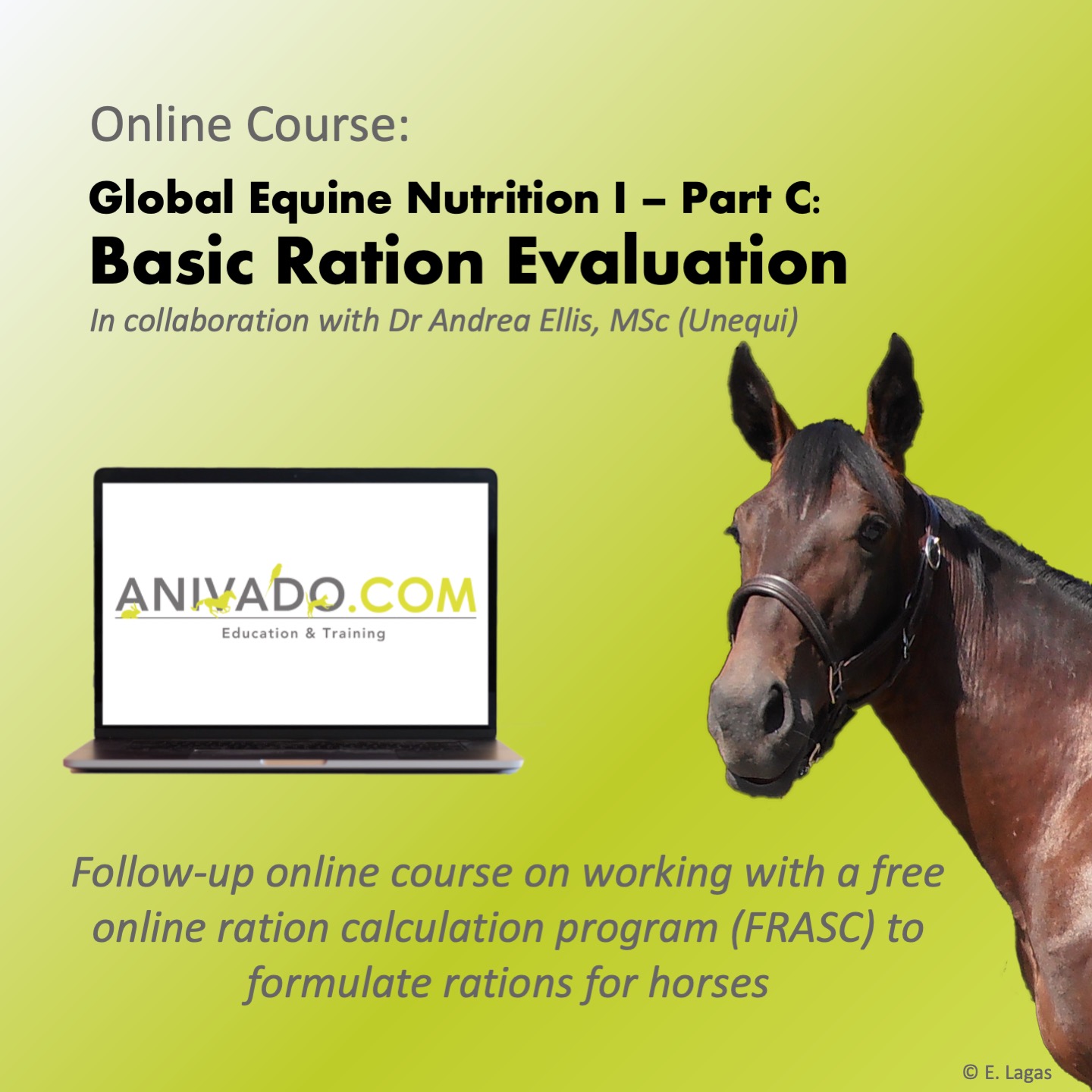 Do you have sufficient knowledge and experience in the field of equine nutrition, and only want to learn about ration calculation in horses and learn to work with an online ration program? Then purchase "Global Equine Nutrition I - Part C: Basic Ration Evaluation", these are the last 3 modules of the whole Global Equine Nutrition I course.
At this time, only Global Equine Nutrition I - Part C: Basic Ration Evaluation (English) can be purchased as a separate part. We hope to be able to offer Parts A and B separately in the future. If you have the knowledge provided in Part A, you can skip Part A and start directly with Part B: Equine Nutrient Requirements & Energy Systems.
Based on the Course Details, you need to assess yourself if you have sufficient knowledge to follow Part C. In doubt? Then email us: info@anivado.com


B2B solutions
The ANIVADO platform is designed to allow for flexible and affordable studying. This offers a great opportunity to work in collaboration with institutions or companies that may not always be able to employ a subject specialist (e.g. equine nutrition scientist) to pass on high-quality knowledge, effectively to students (or for internal CPD). The ANIVADO platform can connect with other learning management systems. Therefore, we are happy to discuss B2B solutions with educational organizations that would like to offer this course (or other ANIVADO courses). Please, contact ANIVADO for Group/Institution Rates. Bespoke Assessments are also possible.
Technical requirements
In order to follow the ANIVADO courses, we recommend using Safari, Chrome, and Firefox as browsers to follow our courses on a desktop (PC, Mac). Phones can play videos from the ANIVADO website but ANIVADO designs its courses for desktop use. Phones/ Tablets are often not suitable for making quizzes & assignments. Read more about the IT requirements here.
Last modified: Friday, 27 October 2023, 9:51 AM