Page
Basic Sport Physiology of the Horse
Basic Sport Physiology of the Horse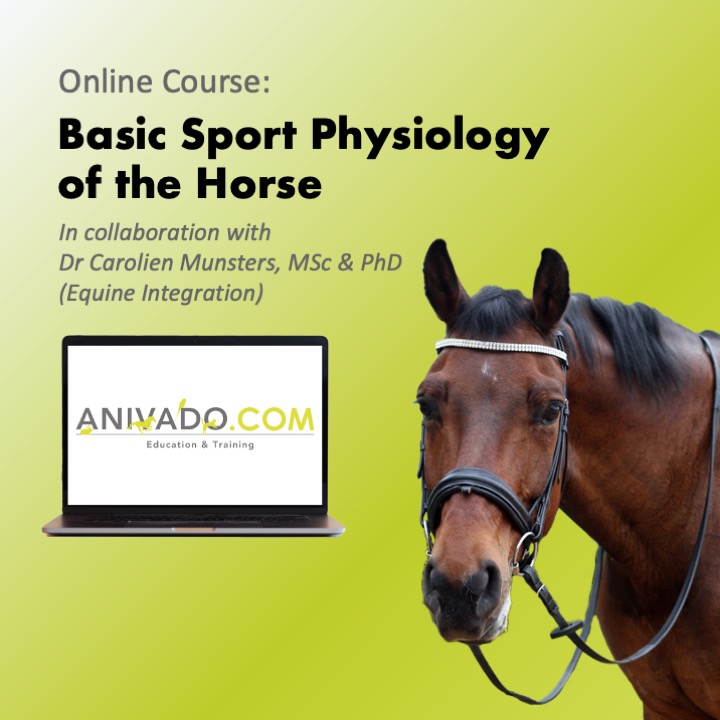 How to train horses and how to determine the intensity of training? The course Basic Sport Physiology of the Horse provides answers to these questions. The course deals with the basics of equine sport physiology and introduces the use of the heart rate monitor and interpretation of data to optimise your training program. This course also provides practical tips on how to improve the training of your horse. This course is created by Dr Carolien Munsters (Equine Integration), an expert in applied equine sport physiology. The content of this course may also function as a preparation for "live courses" organised by Moxie Sport. More information is listed in the course details.

This Level 1-2 ANIVADO course is aimed at riders and equine professionals who want to learn more about the basics of sport physiology of the horse.

Important: For professionals with higher professional education the Applied Equine Sport Physiology (AESP01-EN, Level 3) course that provides an in-depth grounding in equine exercise physiology and training principles may be of interest.




After purchasing the course, you have 210 days to complete the course.
Note: We also offer a Dutch version and a Spanish/English version of this course.

B2B solutions
The ANIVADO platform is designed to allow for flexible and affordable studying. This offers a great opportunity to work in collaboration with institutions or companies that may not always be able to employ a subject specialist (e.g. equine nutrition scientist) to pass on high-quality knowledge, effectively to students (or for internal CPD). The ANIVADO platform can connect with other learning management systems. Therefore, we are happy to discuss B2B solutions with educational organisations that would like to offer this course (or other ANIVADO courses). Please, contact ANIVADO for Group/Institution Rates. Bespoke Assessments are also possible.
Technical requirements
In order to follow the ANIVADO courses, we recommend using Safari, Chrome, and Firefox as browsers to follow our courses on a desktop (PC, Mac). Phones can play videos from the ANIVADO website but ANIVADO designs its courses for desktop use. Phones/ Tablets are often not suitable for making quizzes & assignments. Read more about the IT requirements here.
Last modified: Tuesday, 22 August 2023, 12:42 PM