Page
Equine Clinical Ethology: Cribbing & Wind sucking
Equine Clinical Ethology: Cribbing & Wind sucking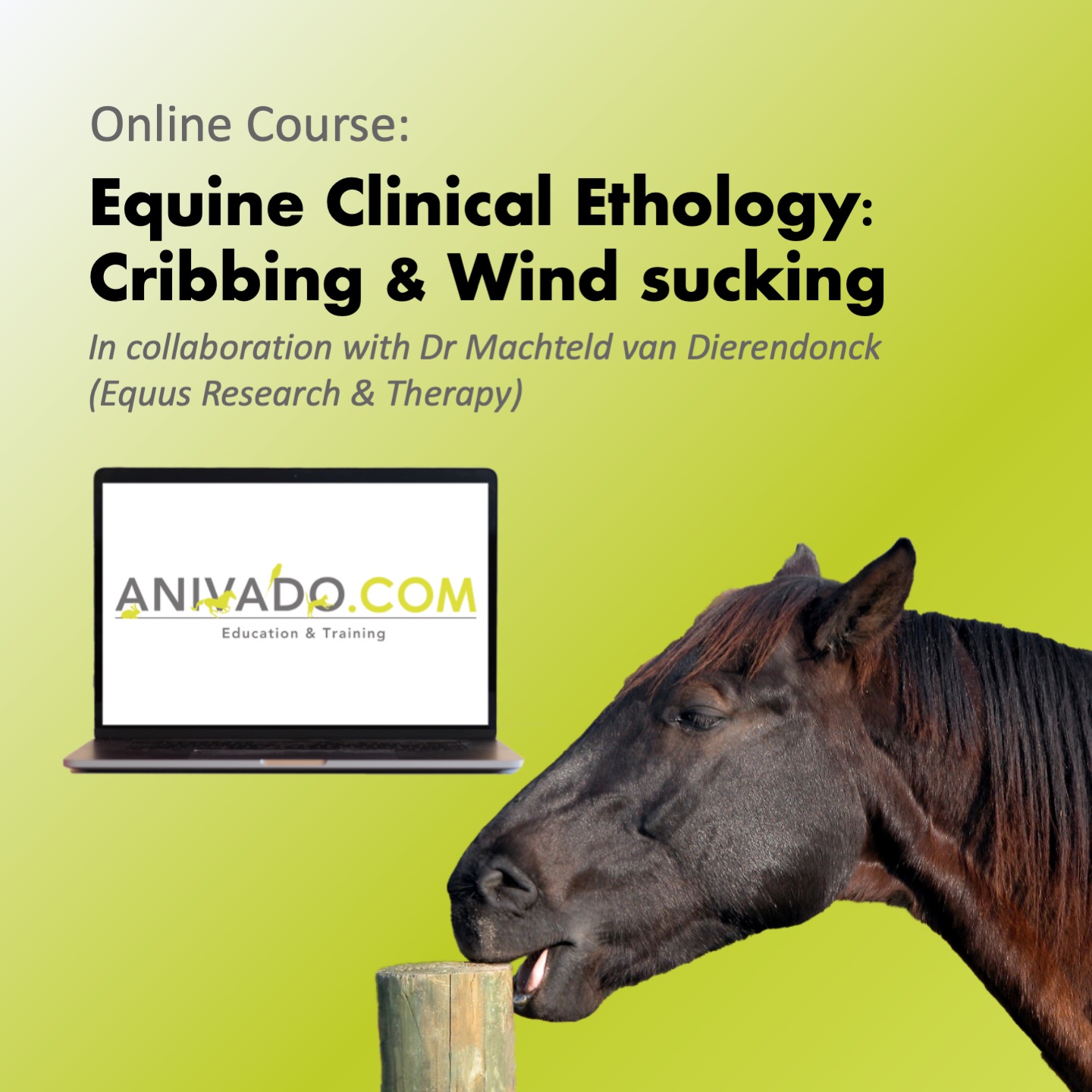 Cribbing and wind sucking are experienced by many owners and veterinarians as one of the most problematic equine stereotypes, which is perceived as virtually unable to be cured.
The course Equine Clinical Ethology – Cribbing & Wind sucking is aimed at an international audience that already has a good basic understanding of equine
behaviour
. This course is specifically designed for equine veterinarians
to provide a condensed insight into the causation, diagnosis, treatment (and yes it can be stopped) and prevention of the "stable vice" cribbing and wind sucking (preferably referred to as stereotypic behaviour).
However, animal science students and equine professionals with a higher professional education may also appreciate the content of this course. This course consists of 1 module that includes 3 videos (total lecture time 123 min), several exercises and supplementary material.

The course is presented by Dr Machteld van Dierendonck, who works as a behaviour specialist, scientist and practitioner in the field of (equine) behaviour and welfare for the last 15 - 20 years.

Equine Clinical Ethology
This one-theme course addresses Cribbing & Wind sucking and is part of a series of courses addressing 'Equine Clinical Ethology'. Courses that are marketed under the umbrella of "Equine Clinical Ethology" provide equine practitioners with applied knowledge and skills based on proven biological, ethological and psychological methods.
Note: This course is entirely in English. Do you want to buy the English-Spanish version? Click here.
After purchasing the course, you have 30 days to complete the course.
B2B solutions
The ANIVADO platform is designed to allow for flexible and affordable studying. This offers a great opportunity to work in collaboration with institutions or companies that may not always be able to employ a subject specialist (e.g. equine nutrition scientist) to pass on high-quality knowledge, effectively to students (or for internal CPD). The ANIVADO platform can connect with other learning management systems. Therefore, we are happy to discuss B2B solutions with educational organizations that would like to offer this course (or other ANIVADO courses). Please, contact ANIVADO for Group/Institution Rates. Bespoke Assessments are also possible.
Technical requirements
In order to follow the ANIVADO courses, we recommend using Safari, Chrome and Firefox as browsers to follow our courses on a desktop (PC, Mac). Phones can play videos from the ANIVADO website but ANIVADO designs its courses for desktop use. Phones/ Tablets are often not suitable for making quizzes & assignments. Read more about the IT requirements here.

Last modified: Friday, 27 October 2023, 9:50 AM