Page
Nutrition and Management to Reduce the Risk of Accidental Doping
Nutrition and Management to Reduce the Risk of Accidental Doping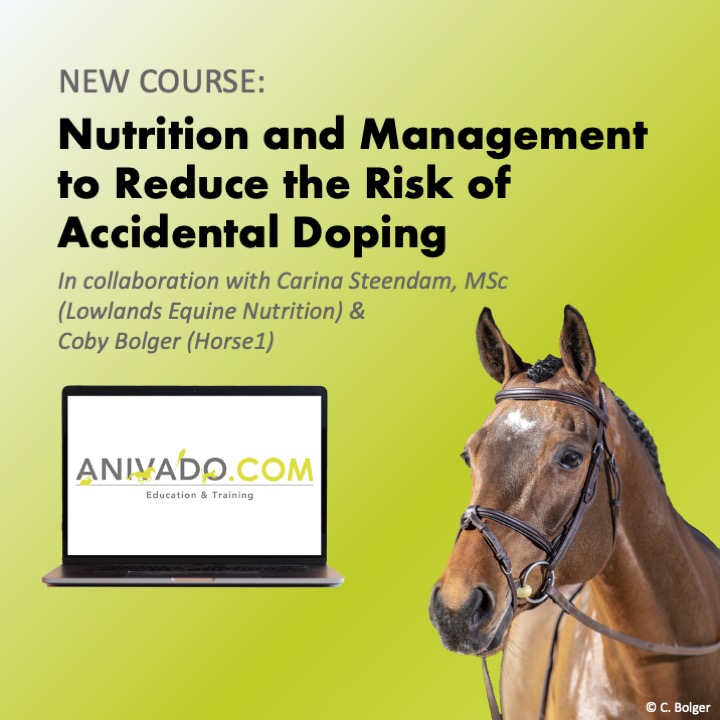 Horses are subject to dope testing at international competitions and, depending on the country, at national, regional, and local events. Many doping cases are not the consequence of deliberate actions but occur without any intention from the rider, trainer or carer of the horse. Accidental doping has become a serious legal issue affecting many in the horse world.
In this course, Carina Steendam MSc (Lowlands Equine Nutrition) and international rider and expert on equine nutrition Coby Bolger (Horse1), provide educational and practical information on evaluating the risk of nutrition and management-related accidental doping. You will learn about FEI rules regarding accidental doping, the common sources of equine accidental doping through feed, supplements, topical products, water and bedding and actions riders, trainers, and other responsible persons can take to minimize the risk of an accidental positive dope test.
This Level 2/3 ANIVADO course for riders, trainers, nutritionists, event organisers and veterinarians creates awareness of how incorrect management and nutrition can accidentally lead to positive dope tests. This course does not require specific prior knowledge. More information about this online course is listed in the course details.
Nutrition and Management to Reduce the Risk of Accidental Doping (APS01-EN) involves about 180 minutes of video material (lectures and other videos).


After purchasing the course, you have 150 days to complete the course.
This course is entirely in English, and English subtitles are available.
B2B solutions

The ANIVADO platform is designed to allow for flexible and affordable studying. This offers a great opportunity to work in collaboration with institutions or companies that may not always be able to employ a subject specialist (e.g. equine nutrition scientist) to pass on high-quality knowledge, effectively to students (or for internal CPD). The ANIVADO platform can connect with other learning management systems. Therefore, we are happy to discuss B2B solutions with educational organisations that would like to offer this course (or other ANIVADO courses). Please, contact ANIVADO for Group/Institution Rates. Bespoke Assessments are also possible.
Technical requirements
In order to follow the ANIVADO courses, we recommend using Safari, Chrome, and Firefox as browsers to follow our courses on a desktop (PC, Mac). Phones can play videos from the ANIVADO website but ANIVADO designs its courses for desktop use. Phones/ Tablets are often not suitable for making quizzes & assignments. Read more about the IT requirements here.
Last modified: Tuesday, 22 August 2023, 11:25 AM